Summer Bucket List- Item #3:  Get my family jogging…….and maybe liking it?
My sister forced me into today's bucket list item.  I hate running.  Always have.  Always will.  So, why would my sis  come to me and "ask" me to run a 5K with her?  And WHY would I say yes?  Believe me…..I have asked myself that question MANY times in the last coouple months!  Although, it went more like this, "WHY, LORD……OH, WHY ME?"
So, as every great wife/mom would do, I thought, "If I have to do this….then my husband and boys are going to do it, too!"  Share the misery, baby….. I mean…. (clearing throat)….it would be a healthy lifestyle for our family. 
As I contemplated how I would motivate everyone to run, I knew that, "It's good for you," would only last about a block!  At last, I stopped trying to be creative and resorted to our old stand-by motivator:  sugar.  They will do anything for it.
First of all……a laugh! 
Just in case you are wondering…..this girl is not me!  I had to resort to a stock photo.  You see, I saved you from seeing a picture of me jogging.  This is my "I want-to-be-like-you-when-I-grow-up" picture.   Instead, when I run, I look like a fish out of water….flailing, soaking wet, and gasping for air!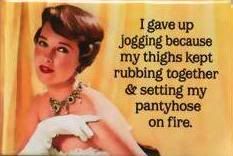 Getting The Boys Jogging- The Rules
  We set goals for my boys.  Each one has a different goal, based on his ability.
At the end of each run, if they reach their goal, they will receive two chocolate chip cookies.
After their goal becomes easy, they will set a harder goal.
The Photos 
My Favorite Chocolate Chip Cookie Recipe 
2 sticks real butter, softened (not margarine)
1/2 c. firmly packed brown sugar
1 cup white sugar
1 large egg
1 tsp. vanilla
1 tsp. baking soda
1 tsp. ground cinnamon
1 1/2 cups flour
1 1/2 cups rolled oats
1 cup chocolate chips
Preheat oven to 350.  Mix together softened butter, brown sugar, white sugar, egg, vanilla, soda, and cinnamon at medium speed until light and fluffy.  At low speed, beat in the flour until well blended.  Fold in the oats and chocolate chips.  Scoop dough onto cookie sheets, 2 inches apart.  Bake 10-12 minutes.
Do you jog as a family?  Any words of wisdom for me…..as I approach my first 5K? 
Remember to check out some other summer bucket lists from my friends below……..
Honey @ Sunflower Schoolhouse
Joy @ My Home in the Smokies
Tonya @ The Traveling Praters
Jennifer & Melissa @ Sisters 'n Cloth
Tara @ Feels Like Home Blog
Lisa @ Creativlei
Nancy @ Proverbs 31 Jewels
Kelli @ Adventurez in Childrearing